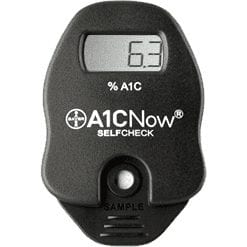 Bayer A1C Now Self-Check System: If you have diabetes then you have to check your blood glucose quite regularly and there is no better way to check it accurately and regularly than to have an updated blood glucose monitor.
There are a lot of issues with out-dated blood glucose monitors and one of those issues is irregular readings. If you monitor is old, it may give off readings that just don't sound right and you may actually be making your diabetes much worse.
Another major concern to those using glucose monitors is the pain that they feel with each prick to measure their levels. It can actually be quite painful when you have to test 3-4 times a day.
The last issue that many people face when it comes to their monitor is the fact that it becomes more of a hassle to use than other glucose monitors today. You have change out lancets every time you test, you have to clean up the monitor itself, not to mention the fact that you have to place the testing strip into that tiny opening in the monitor. It all becomes a huge hassle that many people tire from quickly. You also must write down each and every reading and many people tend to forget that part.
With the Bayer A1C Now Self-Check System, all the problems are thrown to the wayside. You are getting one of the most highly advanced monitors on the market and what can be better than that?
First off, this monitor measures your A1C level which is very important when looking at diabetes.  A1C measures your average blood glucose level over the past 2-3 months, which is said to be very important and is recommended by the ADA (American Diabetes Association) to be below 7 percent. However, this monitor is not for daily use, it is used to look at the big picture when it comes to measuring diabetes as a whole but is still very effective.
Here are some of its great features of the Bayer A1C Now Self-Check System:
Easy to use
Portable
Needs only a small sample of blood
Gets results in five minutes
Can be used with a flexible spending account
Gives on the spot feedback to patients
Needs no maintenance
Lab accurate
National Glycohemglobin Standardization Program Certified
Allows face to face communication with patients
Bayer A1C Now Self-Check System kit includes: 1 A1C Now Self-Check Monitor, 2 single cartridges, 2 shaker kits, 1 quick reference guide, 1 overview and helpful hints booklet, 1 instructional DVD and 1 extra lancet.
The Bayer A1C Now Self-Check System is a great monitor that will monitor your A1C level and that's important because with even as much as 1 percent reduction, many issues and complications that diabetic patients face can be lowered.
Measuring your blood sugar level as a diabetic is very important and many cannot always measures theirs as much as they would like but with more advanced products coming out all the times, everyone is sure to be able to get an accurate reading so that diabetic complications are no more of an issue.