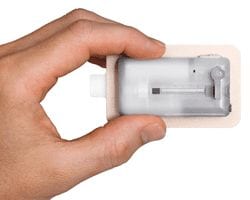 V-Go Disposable Insulin Device for Type 2 Diabetes: In most instances type 2 diabetes can be controlled through diet and exercise, plus oral medication when needed. There are times, though, when these three critical ingredients aren't enough to control the patient's blood sugar levels. When that occurs, the patient is advised to add injectible insulin in their regimen to control their diabetes. The V-Go has been available since March 2011 in the United States, as it was given approval by the Food and Drug Administration in December 2010.
The V-Go has been described as a disposable insulin source, and there are two different medications that have been approved for use with the device – Humalog and NovoLog.
The device is described as small, 2-1/4" by 1-1/3" inch by 0.5", and would weigh approximately 1 ounce when filled with insulin. The patient would apply a new V-Go to the skin daily for one 24-hour period. The V-Go would be inserted into the skin; the device would be worn next to the body underneath one's clothing, so it would not be visible to the naked eye. The device is not electronic and has no moving parts. It will deliver 30 to 40 units of insulin over a 24-hour period. The device is designed for the continuous subcutaneous (under the skin) release of insulin. The V-Go provides a pre-set basal rate of insulin, plus an added dosing at mealtime, which would alleviate the need for multiple daily insulin injections. "The device was engineered to simplify basal-bolus insulin therapy for the millions of people suffering from type 2 diabetes."
The device was recently approved for use in the United Kingdom for those suffering from type 2 diabetes. It received the CE Mark approval for sale in the European Economic Area.