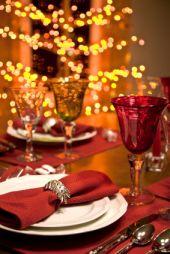 Christmas Ideas For Diabetics: A fruitcake in the mail, some bakes goods at work, candy cane static clings on store windows. It can seem as if there is a conspiracy at Christmas time for those with diabetes.
You may be lamenting the fact that your aunt's holiday fudge along with traditional mulled wine or eggnog is completely off limits. It can feel as if Christmas is simply one big "NO" when it comes to mealtime acceptability.
To add insult to injury the traditional Christmas meal is far from friendly to those who live with diabetes. If a host is thoughtful they will have fruits, nuts and possibly some sugar free candy when they know there is a diabetic who will be attending, but it is possible to take Christmas meals to another and more healthy level. What's more the possibilities available are easy to research and often easy to put together.
Some of the more traditional Christmas meals will feature offerings such as ham, prime rib or turkey. Added to this caloric fest are an array of side dishes that may be heavy on cream and/or sugar. Carbs are always available in dinner rolls, potatoes and other starchy seasonal favorites. This is often a recipe for disaster for those who absolutely need a low sugar/low carb meal.
---
---
None of this adds up to a wholesome memory for the diabetic.
What if you were to consider another alternative for a Christmas meal? What if this meal tasted great, was diabetic friendly and healthy? What if those who don't have diabetes loved the meal? What if it became a new tradition?
If you are hosting a meal where a diabetic will be present take the time to extend the courtesy of a dish they do not need to feel guilty about. You can still create all the traditional feast favorites, but by adding a dish that is pleasing to the taste and helpful to the body you may find there may be many who will opt for the healthier choice. They might even welcome it.
In Australia some of the more typical Christmas meals consist of seafood and fruit. While the fish may have cholesterol it is generally the good variety with the advantages of Omega-3 Fatty Acids and low calories. They are available because, in December, it is summer down under. Christmas day often finds Australians on the beach and not huddled inside waiting on roast turkey and gravy.
Dishes that include salmon and trout are very positive choices for diabetics and can be prepared in taste tempting ways. Even in the United States these fish are available year round.
One of the greatest fallacies for those who may have been recently diagnosed with diabetes is that good taste is no longer something available. The truth is there are numerous herbs and seasonings that allow an entirely new pallet to be used in the creation of foods that cause a sensory explosion. Advances in sugar substitutes allow sweetness to continue to be a part of a diabetic's vocabulary.
If you remain partial to traditional favorites the good news is there are numerous recipes using turkey that are very diabetes-friendly. They key to any holiday gathering is monitoring calorie content and keeping total intake to a safe range.
The Wellness Living suggests a seasonal recipe that is pleasing to the eye and palate and features a caloric intake of just over 100 calories per serving. This is one of those ideas that may challenge the way you think about a holiday meal.
Lemon Baked Shrimp
1 pound peeled and de-veined shrimp
1/3 cup dry bread crumbs
1 teaspoon dried parsley
1/2 teaspoon grated lemon rind
1/8 teaspoon salt
2 minced garlic cloves
2 tablespoons fresh lemon juice
1 teaspoon olive oil
Recipe
Coat 4 individual baking dishes with non-stick cooking spray
Divide shrimp between the dishes; set aside
Combine the bread crumbs, parsley, lemon rind, salt and garlic in a bowl; stir in lemon juice and olive oil
Sprinkle bread crumbs over the shrimp
Bake at 400 degrees for 15 minutes or until shrimp are done and the bread crumb mixture is lightly browned
Serves 4
Diabetia suggests a traditional sounding dessert that is actually very friendly to those with diabetes.
Cranberry & Pear Crumble
Ingredients
4 pears
200g fresh cranberries (7 oz)
4tbsp water
1 tbsp sugar substitute
120g oats (4.25 oz)
50g whole meal flour (1.75 oz)
2 tbsp sugar substitute
50g butter or margarine (1.75 oz)
2 tbsp ground almonds
Peel and cut pears into small cubes
Place in an ovenproof dish
Add cranberries and water
Add sugar substitute and stir
Mix other dried ingredients, blending the butter in well
Spread on top of fruit mixture
Cook at 190C, 350F for 30-40 minutes
Serve with a spoonful of yogurt, fromage frais or low fat custard.
If you live with diabetes you do not need to live with the internal voice that always tells you, "NO!" You simply need to explore the yeses that are available to you. Every day the yeses increase. New worlds of dining opportunity exist for the diabetic and holidays are no exception.
When a host asks if there is anything special they can do for you feel free to pass along a favorite dish or one you think others would also enjoy. You might even offer to create something to share that might add a sense of culture and adventure to the holiday atmosphere.
You don't need to apologize for having differing requirements and can help others deal positively with the differences. Whenever there is a medical difficulty there are many that do not know how to respond. Your encouragement can allow them to become more comfortable, accepting and even accommodating.
Oh, and if you're a boss or someone offering holiday goodies at work – consider the needs of those who may be diabetic in your office and bring along tasted nuts, fresh fruit, certain types of diabetic trail mix or sugar-free candies and baked goods. This way your holiday cheer can extend to everyone.
---