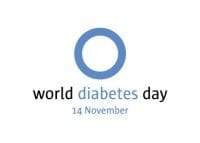 Celebrate World Diabetes Day Nov. 14: Diabetes is a serious health condition that affects over 23 million people in the United States and as many as 180 million people worldwide.  As alarming as those statistics are they are nothing compared to how quickly the disease is growing.  Not only is Type 1, also referred to as juvenile diabetes, growing steadily at about a 3% increase per year, but Type 2 Diabetes which was once considered a threat only to people in later life is also growing at an alarming rate in children and people of all ages.  Diabetes can cause death through its own symptoms if left unchecked, but beyond that it increases the risk of many other deadly diseases including heart disease.
Diabetes is considered one of the top 5 causes of death in this country and that is what prompted organizers to declare November 14th as World Diabetes Day.  Having a "day" for a cause helps an organization draw attention to the causes and cures so that the public can be educated.  This is important because as many as one-fourth of the people with diabetes are unaware that they have it.
Bringing attention to World Diabetes Day on November 14th is also important because the recent increase in Type 2 Diabetes among adults and children is believed to be caused by a poor diet and that can be corrected and prevented.  It is sad that in a country that has more food available to them than anywhere in the world people choose to eat foods so high in sugar and low in nutrients that it is causing an epidemic.  The good news is that with proper education and improved habits many people can avoid the onset of this deadly disease.
The theme of this year's annual World Diabetes Day is "Diabetes in Children and Adolescents".  It is so important to help educate children because they are the future of the world.  More information about World Diabetes Day and ways to celebrate can be found at worlddiabetesday.org.
---
---
---