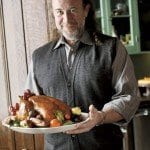 Chef Brings Personal Experience to Diabetic Meals: He swears like a sailor, wears his hair long and dons an apron daily. Tom Valenti is a chef's chef. He is well known in New York for his inspired way with food and he's not shy about trying new things. Oh, did I mention he's diabetic?
Valenti was informed back in the 1990's he had Type 2 diabetes. This can have a very negative effect on a chef. After all they make their living with food and much of their success depends on experimentation. They need to taste their creations to know if they have succeeded. Could he continue his life's passion with diabetes? Valenti found a way.
The News and Observer reports, "When Valenti got his diagnosis, he changed his diet, but he didn't change his cooking. And he didn't talk much about it."
Besides making the recipes that made him famous Valenti also began slowly experimenting in foods that were both pleasing to his palate and acceptable to his diabetic dietary goals.
WABC says, "This gourmet superstar chef is a healthy eater now and keeps his diabetes in check. And while he still craves food he shouldn't have, his cooking is satisfying for him and he hopes for others."
At some point Valenti decided that others might enjoy dishes he specifically created to trick his tastebuds into finding renewed zest for mealtime. This began his journey into writing a very accessible cookbook entitled, "You Don't Have to Be Diabetic To Love This Cookbook".
CBS quoted Valenti in a portion of his book. "Beyond discovering how useful my standard operating procedures were for my new scenario, I found that very often honoring the limits of diabetes simply meant rejiggering the proportions in a dish, emphasizing proteins and vegetables over pastas, legumes, and so on."
Many who have tried his dishes believe Valenti has succeeded in quality 'rejiggering'.
The following Valenti recipe is courtesy of ABC news.
Fish en Papillote
1 tablespoon unsalted butter
1 lemon, divided into sections, sections peeled
4 white fish fillets, such as cod (4 ounces each)
4 plum tomatoes, seeded and thickly sliced crosswise
¼ cup fresh flat-leaf parsley leaves
8 fresh tarragon leaves (optional)
2 small shallots, minced
½ teaspoon coarse salt
¼ teaspoon freshly ground black pepper
½ cup dry white wine
2 tablespoons extra-virgin olive oil
Preheat the oven to 325°F.
Cut 4 pieces of aluminum foil (or parchment paper), each about 18 inches square. Smear butter on each piece and top each with a fish fillet. Neatly pile the tomatoes, lemon sections, parsley, tarragon, if using, and shallots on top of each fillet and season them with the salt and pepper. Sprinkle each fillet with ¹/8 cup of the wine and 1½ teaspoons of the olive oil.
Fold the foil up over each fillet and crimp the edges together to create a packet. Put the fish packets on a baking sheet and set the baking sheet over medium heat on a stovetop burner until you hear a sizzling sound, about 45 seconds. Transfer the baking sheet to the oven and bake the fish until cooked through, about 7 minutes.
Carefully put a foil packet on each of 4 plates and serve. Remind diners to cut the packets open cautiously.
"You Don't Have to Be Diabetic To Love This Cookbook" by Tom Valenti retails for $32.95 hardcover, $19.95 paperback and contains 250 recipes specifically for diabetics and those who love them.