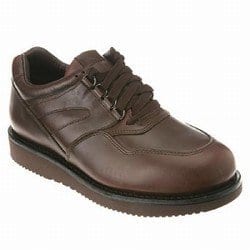 There are over 24 million Americans who have been diagnosed with diabetes and more than 25 percent of them will develop some sort of foot complications that may need to be amputated. Annually, 38,000 elderly individuals loose a lower appendage due to complications that derive from diabetes. This is why it has become important for anyone who has been diagnosed with diabetes to own a pair of therapeutic shoes. Therapeutic shoes can be expensive, no doubt, but if you have Medicare, then you could save a lot of money when you buy a pair.
Medicare Part B covers therapeutic shoes as long as your doctor prescribes them. Here are some issues that doctor's look for when it comes to assessing your feet for the need of therapeutic shoes.
You must have diabetes type 2
You must have one of the conditions listed below
Calluses that could lead to foot ulcers
Partial or complete foot amputation
A history of foot ulcers
Nerve damage caused by diabetes
Deformation of the foot
You must be diagnosed with diabetes and are being treated under a diabetes care plan that states you need therapeutic shoes or inserts.
Medicare also requires that a orthotist, pedorthist or prosthetist fit and provide the needed therapeutic shoes
Therapeutic Shoes and Inserts Offered by Medicare
There are certain types of shoes and inserts, which are covered by Medicare.
One pair of depth-inlay shoes/ three pairs of inserts
One pair of custom-molded shows/ inserts
If wearing depth-inlay shoes due a deformity of the foot, than two you will receive two additional pairs of inserts.
On certain occasions that call for it, Medicare will offer to cover inserts or show mortifications instead of inserts.
There are ways that individuals who have diabetes can prevent the need for later amputation and one of those ways is by wearing the proper shoes. However, there are so many others ways that one can take care of their feet and it all starts with knowing exactly how. Here are some ways to protect your feet:
Wear therapeutic shoes
Diabetic shoes are made to provide comfort, enhance protection and help deflect injury.
Wear socks
Most people do not like to wear socks. However, socks can act as a buffer to stop scratches and scrapes that could ultimately lead to something bigger.
Follow your exercise and diet closely.
Skimping here and there is not good. So keep up the hard work to achieve great rewards.
Select some time throughout the day to inspect your feet.
Look for blisters, swelling, cuts and red spots. Make sure you check really well in between your toes. If you find an ingrown toenail, you should contact your doctor to find the best solution for removal.
Tell your doctor if something changes.
Your doctor should know the ends and outs of your foot. If it changes color, or feels unlike your foot or changes shapes than your doctor needs to know.
You should go for a yearly check-up, just for your feet.
Even if your feet feel great, you should still go for a yearly check-up. It is important to make sure you are not missing anything.
Your feet should be washed daily, patted dry and rubbed down with a mild lotion.
Do not put lotion in between your toes.
Keep your toenails trimmed and filed to prevent issues with toenails or scratching in the middle of the night.
Keep your shoes on; it is important that you never walk around barefooted.
If you just cannot stand to wear shoes, than slide into some socks. Nevertheless, never go barefooted.
These are all important tips to keep in mind when it comes to your feet. You are their protector and you can be a huge part of keeping them safe and from a harmful future. Take care of your feet.