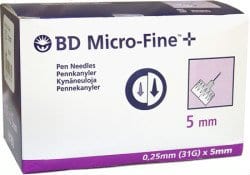 Becton Dickinson has made diabetic history on several firsts. This includes different innovations of insulin, the syringe, and needles.
BD also makes products that provide comfort and simplicity to diabetic users. The BD Ultra-Fine Needle allows diabetics to administer insulin without a lot of issues or complications. This needle is a 30-gauge that is used in syringes. With this particular needle, the syringes come in three different sizes: 1cc, ½ cc, and 3/10 cc.
BD Micro-Fine IV Needle
BD also has another needle called the BD Micro-Fine IV Needle. It is a 28-gauge needle that measures 12.7mm. This needle has been around for a while and people depend on its durability. The syringes for this needle come in the same three sizes as the BD Ultra-Fine Needle.
The gauge measurement depends on how long the needle length is. That would be decided by you. There are two lengths of BD needles: 12.7mm and 8mm. The first one can be purchased in both 28 and 30 gauge measurements. The smaller one has only one gauge measurement and that's a 31 gauge.
Needle Length
Choosing a needle length is important, whether it's for an ultra-fine needle or a micro-fine needle. A lot of people prefer to use shorter needles with the syringe. The gauge measurement of choice is 30 or 31. This is because the needles are thinner in this size. However, there are people who will use the 28 gauge measurement. The needle is thinner if the gauge number is higher; if the gauge number is lower, the needle will be thicker.
If you decide to use the 31 gauge measurement, consult with your physician prior to use. Since this needle is shorter, the control of your blood sugar may shift. If you are overweight or obese, you may be able to use a shorter needle. Before you make that decision, you should also consult with your physician.
If the decision is in your favor, you may have to check your blood glucose level more often if you decide to use a shorter needle with your syringe. This is to ward off any issues with your blood glucose.
Ultra-Fine Needles
If you're using ultra-fine needles, they would be easier to use because they provide more comfort to the diabetic. On the other hand, you will have some who will stick with the micro-fine needle length because it suits them just fine.
There are other features of ultra-fine needles and micro-fine needles. They are manufactured with the comfort of the diabetic in mind. The needles are lubricated for an easy and smooth insulin injection. The needles themselves are made of stainless steel. Since the needles have to be of great quality and standards, they are checked out to ensure 100% satisfaction. More importantly, the needles are not toxic and are latex-free.
Another thing you should know when using ultra-fine and/or micro-fine needles is needle safety. You should not reuse a needle after the first go-round. Not only can it cause injury, but it can cause infection, which can be very serious.
When in doubt of which needle you should use, consult your physician for further assistance.