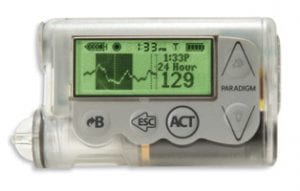 The Minimed Paradigm 522 insulin pump is designed to assist individuals to control their diabetes more efficiently. A person that cannot manage their disease with diet and exercise alone may need insulin injections. This device allows an individual the freedom and mobility that straight injections may not provide. The Minimed Paradigm 522 has several features and benefits that are necessary and helpful in managing their diabetes. This machine is the very first insulin pump designed with real-time options. This technique will allow a person to continue to monitor their glucose levels every second of the day. An individual will never worry about their sugar levels with this handy device. A person will never have to prick themselves with a needle to check their blood sugar levels; they will know exactly how their system is doing as well as monitor how well medication and diet is helping the glucose levels.
The features of the Minimed Paradigm 522 are plentiful. The device comes with a comprehensive user guide that can explain in detail each feature that is present. An individual will be able to setup their machine within a few minutes. This is a hassle-free method in maintaining a person's diabetes.
A glucose censor determines the blood sugar levels throughout the day. This is a painless process that can conclude if the levels are in a safe range.
This product is small as well as lightweight. An individual may even forget that the insulin pump is working around the clock.
The Minimed Paradigm 522 is completely rechargeable. An individual would not have to spend large amounts of money replacing batteries every few weeks. A half recharge can last up to 3 days non-stop. When it is fully recharged, a person can have the freedom of their machine for around 14 days.
This device prides itself on the real-time features that it possesses. There are certain levels of readings, alarms and information that anyone needs to be aware of for their diabetes.
It is completely customizable for an individual's special needs. A person will be able to calculate their desired bolus dose, change their rate ranges as well as restore lost settings.
The alarms are plentiful. An individual will be able to know when the medicine is running out, when the blood sugar levels are too high or too low and when the battery is almost depleted. This can be set to beep or vibrate. It is suggested while sleeping to set the device to beep.
The benefits for the Minimed Paradigm 522 are fantastic. An individual will be able to control their diabetes with a few simple adjustments for a person's specific body type. The machine will allow everyone the freedom to live life without worrying about their insulin injections.
The Minimed Paradigm 522 is completely wireless. An individual will never be concerned about messy wires or hookups again.
This machine is waterproof for 30 minutes. A person will be able to swim, take a bath or shower without distressing about their insulin pump.
An individual can obtain software for records, uploading information or keeping track of the blood sugar levels. This is an excellent method in showing the health care provider records and information they need to know.
The Minimed Paradigm 522 can be obtained in 4 different colors. This is a fantastic technique to be able to match a person's style and personality.
This product is equipped with a remote control. This will allow an individual privacy when adjusting their insulin pump.
An individual will be able to contact a trained professional 24 hours a day. If a person has any questions or concerns about their machine, they can get the assistance right away.