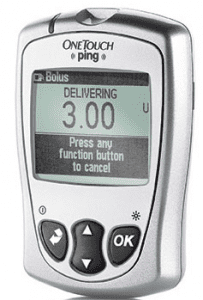 Seems like everything is going wireless including medical devices and that doesn't excludes diabetes devices such as the One-Touch Ping. The One-Touch Ping is a great new diabetes insulin pump that is making great headlines and receiving top-notch reviews across the web.
It is an intelligent glucose management system that allows diabetics to receive multiple daily injections and gives the ability to quickly adjust insulin, completely based on what the body needs at the very moment.
One-Touch Ping uses both a pump and a meter-remote. The meter-remote can control the pump from a distance so that the pump can be left where it is on the body. Many complaints about insulin pumps are that they always have to be taken off to adjust and so on, but with One-Touch Ping, the pump doesn't have to leave the place it has been set. Instead, everything can be done through the meter-remote, which makes an insulin pump less conspicuous which is another complaint, made by many insulin pump users. However, the pump can be used manually as well without the meter-remote.
The meter-remote has a full set of functions that are designed to help a diabetic manage their diabetes more discreetly, which means it's perfect for an on-the-go lifestyle. The meter-remote even allows you to dose your insulin needs from it, which is extremely helpful when a person is pressed for time. The One-Touch Ping has a very sleek design to it and with an impressive belt clip and a curved inner side, it can be easy to hide away.
Software programs that are compatible with both Vista and Mac make managing diabetes even easier since many different things can be downloaded straight to a PC or laptop such as details on bascal, bolus rates, averages and graphs. Music can even be uploaded to it like with a cell phone or MP3 player and both the devices can be hooked up through an easy-to-use USB port that only takes about five minutes to set-up.
The screen is very easy-to-read and is even backlighted so that when using at night, no lights need to be turned on. The days of waking others in the house to manage your diabetes because of bright lamps is over with the One-Touch Ping.
Here are some more great features:
Pump is water-proof for up to 12 ft. for 24 hours
It comes in five different colors: Blue, Silver, Black, Pink and Green
It has a small bascal range; insulin can be delivered in the lowest amount available of 0.025 u/hr.
The meter-remote has a Calorie King function that allows the user to program up to 500 foods and their nutritional values in it.
If there are any issues with the device or questions about how to use it the makers of the device, Animas, have a great support system that is open 24/7, 365 days and will allow a message to be left and a callback time of no longer than 10 minutes. You can easily upgrade your old Animas device to a Ping through the ezAccess program and all you have to do is pay the difference between the two devices.
The One-Touch Ping is easy-to-use and easy to hideaway which makes managing diabetes less of a hassle so that there is more time for fun in life.