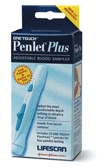 What makes the new Penlet-R Plus lancing device any different or any better than the older styles of lancing devices? If you have been having difficulty in trying to keep up with everything "new" that comes out in terms of diabetic supplies, you might like to know that this improved version of the Penlet is already quite popular amongst people who have tried it.
In order to convince you that you, too, should try this product, let's look at some of its great new features! One of the most important features of the Penlet-R Plus is that it is one of the most pain-free devices currently available for routine diabetic blood testing. The special, superior-quality needles used with this device are designed to make your blood-drawing tasks as comfortable as they can possibly be. If, like most diabetics, your health care plan requires you to do your blood testing process on a very frequent basis, this is a feature which you will definitely appreciate.
The Penlet-R Plus features seven different depth settings. This will prove to be an invaluable aid in making your blood-drawing nearly pain-free. When you adjust the Penlet-R Plus to the precise setting you want, you may think that this product was made especially for you! Whatever your age, size, body composition, or skin type may be, this device is equally suited for every diabetic who needs to perform routine blood testing, because its adjustable feature will make it "just the right fit" for each person.
The Penlet-R Plus is convenient and safe. Both of these factors are very important to most people who are dealing with diabetes in their lives. First, you will have no difficulty taking this small, portable device wherever you go– it is that compact, neat, and even stylish! Second, another great feature of the Penlet-R Plus is that it provides hands-free removal and disposal of used needles.
As there is probably no one who likes to handle used needles, this feature alone makes the Penlet-R Plus a very worthwhile tool. In addition to the fact that handling needles is a distasteful prospect for many people, it can also pose health risks and dangers, especially for young children. You will no longer have that concern when you elect to use the Penlet-R Plus, because this device features the cleanest and safest way of removing and disposing of the used needles.
When you purchase your Penlet-R Plus lancing device, you will also receive a set of twenty-five lancets. After you have tried this excellent new product, you will know why so many people have been saying how wonderful it is! If you have used and been dissatisfied with any number of lancing devices in the past, you are in for a very pleasant surprise with the Penlet-R Plus– not only is this new product receiving a lot of praise, you will immediately agree that it is well worth it all.