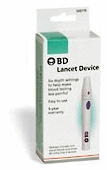 There are so many products currently on the market for diabetes management that selecting the equipment that is best for you can seem like an overwhelming task! This is why it is helpful to gain some basic information about the products which are available, so that you can make the most informed choices in which particular products you will find the most suitable. Gaining this information beforehand will also help to eliminate the chance of wasting money on products that you will not like, as well as the personal inconvenience of actually using such products.
The BD Lancing Device is one tool for blood-sugar monitoring which you might like to consider. As is the case with any type of equipment there are both pro's and con's to this device, so knowing both the facts about the BD Lancet Device and the degree at which this product has been received by other diabetics who have already used it, should go a long way in assisting you in making a decision about whether or not this is something you would like to try.
The fact of the matter is that people who have used the BD Lancet Device have found it to be less than satisfactory for a number of reasons. The main reasons cited for dissatisfaction with this product include that it is not as easy to use as one may hope when purchasing the device, and adjusting it can also be a bit more complicated than some other similar types of devices. After the initial adjustment, however, the device will be set and ready to use.
Whether these factors figure in to your eventual decision about the BD Lancet Device or not, it is a good idea to also consider some of the more positive aspects of this tool. One important factor of the BD Lancet Device is that it is convenient. If having a blood-drawing device that is easily portable is one of your main priorities in finding just the right tool, this product will provide it for you.
The adjustable feature of the BD Lancet Device also means that it will provide a more-than-adequate degree of comfort when drawing blood. This is a very important feature, for it will help each user feel as if it had been custom-made for him or her. If you have ever tried a blood-drawing method which operates on the "one-size-fits-all" notion, you are sure to appreciate this adjustable feature!
The safety factor is a concern for most diabetics. When the lancets are handled properly, the BD Lancet Device will give you a much better than average degree of safety. This is especially significant when the person who will use this product is a child. With just a little instruction beforehand, even a child can learn how to use this device safely.
Every product has both negative and positive qualities. All in all, the BD Lancet Device can be a good choice in blood-drawing products when used with reasonable care.