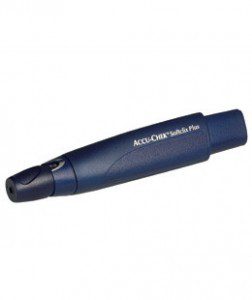 The Accu-Check Softclix lancing device is made by Accu-Chek and costs more than the other lancing devices on the market. There are several reasons for this. First, they provide more comfort than some of the other brands on the market because of its unique design and operation. In fact, it has been touted as the most comfortable lancet available.
Even though this lancing device is smaller, it is by far one of the most reliable. The Softclix can be used for years to come, provided it's taken care of properly. It's also short in length, as opposed to other lancing device brands.
The Softclix lancing device is placed into a slot. This slot can hold the lancets without any problems. These can last for a long time and you don't have to concern yourself about breakage.
To operate it, remove the cap from the lancing device. Place the Softclix lancet into the holder. Remove the cover of the lancet and put the cap back on. The cap is required to secure a certain way. It has to line up with the device or it won't be secure. It may take some time until it is aligned properly.
In order to get the correct depth, twist the tip to get the measurement that you need. On the Softclix lancet device, there are 11 measurement settings you can use to make sure the needle penetrates far enough into the skin. After you've done that, the device has to be cocked. Press the button until you hear a clicking sound. You will know that you're on the right track when the button turns yellow.
Only when the button is yellow can you proceed to press it. You have to have enough strength in order to activate the lancing device. This device needs at least 14 ounces of pressure in order to operate.
If the first time wasn't good, you can try again. On the next try, you may want to increase the depth and then cock it again. If it works a second time around, then you can remove the top and remove the lancet.
Even though the Softclix lancets and lancing device may be pricier than the others, you can get your money's worth from this one. It is so compact and easy to hold that it's great for adults and children to use.