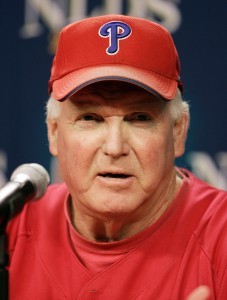 Phillies Manager on His Own Diabetes Win Streak: Charlie Manuel is a big man, and he took a big team to the World Series in 2008. The Phillies manager guided his team to an incredible year, but excessive weight and Type 2 diabetes found him on a collision course with disaster.
It should be noted that the following information is derived from information provided by Nutrisystem, a company that provides dietary meals to customers and who also happens to have a food-based program for diabetics. We use this information as a means of providing encouragement to gain control over your diabetes and are not necessarily endorsing Nutrisystem products.
Manuel recalls the moment he knew he needed to make a change, "Last year's championship was such a huge personal and professional accomplishment, but during the victory parade through the streets of Philadelphia, I remember one lady asking for a photo of us together and then immediately showing it to me and I thought, 'Man, I'm BIG!' I looked huge compared to her and in every picture I saw of myself. I knew I had to do something to lose weight."
Through a process of diet and exercise Manuel lost 50 pounds and has led his baseball team to another championship run. Even though his team is on track for another stellar seasons Manuel reflects, "In the past I wouldn't think about what I was eating and when. I would go all day in meetings and forget to eat and then eat ballpark food before the game. I tried dieting on my own, but that never worked. I didn't make it a priority and it caught up to me to the point where my doctor told me I had diabetes and put me on medication. That just gave me another list of things to manage like checking my blood sugars and remembering to take my medication."
---
---
The diet program Manuel used was Nutrisystem D. A press release for Manuel indicates, "The program is specifically designed to help overweight people with Type 2 diabetes lose weight and control their blood sugar. The Nutrisystem D program incorporates more than three decades of scientific research and…experience on…weight loss with exercise."
Reflecting on the past year Manuel said, "I wanted a program specifically designed to support my diabetes and that I could stick to whether on the road or at home. When I travel, I have a microwave sent to my room. I order my salad, fruits and vegetables from room service so I can stay with program. I eat six times a day and never feel hungry. When I do eat out, I know what choices to make and what a real portion is. The best part is, besides losing 50 pounds, I feel better. I look better. Even the umps notice that I've lost weight. I tell my players that I feel like I can still play." The Phillies have proven to Manuel that they can still play – and they are – for a much slimmer manager.
Dr. Gary Foster, Director of the Center for Obesity Research and Education of the Temple University School of Medicine said of Manuel, "Like so many people with diabetes, Charlie was confronted with the complexities of managing diabetes and losing weight. Counting calories and carbs all while trying to keep your blood sugar in check is quite a challenge. For someone like Charlie, appropriately portioned meals throughout the day provide the structure to lose weight while maintaining his blood sugar levels."
---