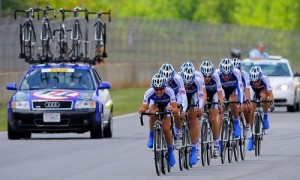 Team Type 1, an international sports organization promoting diabetes awareness around the world, announced recently that ten runners from the organization's world-class athletic program will be embarking on a 3,000 mile run across the United States. Supported by international pharmaceutical company SANOFI, which sponsors Team Type 1's racing teams — which are composed of over 100 athletes — the run is designed to promote a message of improved health through proper diabetes management methods, through increasing awareness of the growing problem of diabetes in the U.S., and through the prevention of diabetes through exercise. The runners are all diabetics themselves, and this run will be the first time that such an effort is undertaken by an all-diabetic team.
The run will begin on Friday, October 28, 2011, in Oceanside, California. The run will be a relay that stretches from the west coast to the east, 24 hours a day. The team has set their goal as reaching New York City in time for World Diabetes Day on November 14, 2011.
Team Type 1 has previously participated in the Race Across America — known as the "World's Toughest Bicycle Race" — starting in 2005. Since then, the team has won the event four times with athletes who have Type 1 diabetes. Team Type 1 also holds the record for the quickest trans-continental crossing at 5 days, 9 hours, and 3 minutes.
"Since the inception of Team Type 1, our athletes with diabetes have been shattering the limits of what is possible," said Phil Southerland, CEO and founder of Team Type 1. "We're so proud of our athletes for dreaming big and taking on the run of a lifetime in an effort to inspire others living with this disease. We are also promoting exercise as a measure to prevent Type 2 diabetes and better manage Type 1 diabetes. We can't wait to watch them cross the finish in New York City. Our organization, fans and friends around the globe will be cheering them on."
Team Type 1 is led by Tom Kingery, director of the Team Type 1-SANOFI Running and Triathlon teams and a four-time Ironman competitor. The team is composed of ten athletes; among those athletes, individual achievements include top finishes in the New York City Marathon, the Boston Marathon, the Ironman World Championships, and several ultra-marathon events. One athlete competed and won in the NCAA Final Four in soccer.
"We are thrilled to have an unparalleled team of endurance athletes for our first ever run across the country," said Tom Kingery. "These accomplished runners are not only amazing athletes but they are great people and role models in the diabetes community. They carry with them a powerful message of empowerment that instills hope and inspiration in those struggling to live a positive and healthy life with diabetes. We are very excited for this challenge and the opportunity to spread the message of hope from California to New York City."
Sponsors of Team Type 1 include SANOFI, Newton Running Footwear, Share Care, RoadID, Hammer Nutrition, VSP Vision Care, and the American Diabetes Association of New York City. Backers will ensure that the athletes receive proper care for their diabetes over the period of the competition.
Team Type 1 is based in Atlanta, Georgia, and was originally formed as an organization that used bicycling as a platform for promoting better care and awareness of Type 1 diabetes, a chronic variation of diabetes that is commonly diagnosed in children, adolescents and young adults.