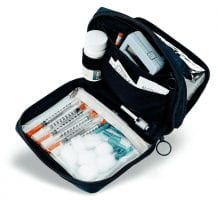 If information is power than knowing as much as you can about the Medicare benefits you're entitled to can be very helpful in your care. The Center for Medicare and Medicaid Services provides more details.
Before a beneficiary gets a supply, it is important for them to ask the supplier or pharmacy the following questions:
Are you enrolled in Medicare?
Do you accept assignment?
If the answer to either of these two (2) questions is "no," they should call another supplier or pharmacy in their area who answers "yes" to be sure their purchase is covered by Medicare, and to save them money.
If a beneficiary cannot find a supplier or pharmacy in their area that is enrolled in Medicare and accepts assignment, they may want to order their supplies through the mail, which may also save them money.
Therapeutic Shoes and Inserts
If a beneficiary has Medicare Part B, has diabetes, and meets certain conditions (see below), Medicare will cover therapeutic shoes if they need them. The types of shoes that are covered each year include one of the following:
One pair of depth-inlay shoes and three pairs of inserts; or
One pair of custom-molded shoes (including inserts) if the beneficiary cannot wear depth-inlay shoes because of a foot deformity and two additional pairs of inserts.
Note: In certain cases, Medicare may also cover shoe modifications instead of inserts.
In order for Medicare to pay for the beneficiary's therapeutic shoes, the doctor treating their diabetes must certify that they meet all of the following three conditions:
They have diabetes;
They have at least 1 of the following conditions in one or both feet:
Partial or complete foot amputation;
Past foot ulcers;
Calluses that could lead to foot ulcers;
Nerve damage because of diabetes with signs of problems with calluses;
Poor circulation; or
Deformed foot;
They are being treated under a comprehensive diabetes care plan and need therapeutic shoes and/or inserts because of diabetes.
Medicare also requires the following:
A podiatrist or other qualified doctor must prescribe the shoes, and
A doctor or other qualified individual like a pedorthist, orthotist, or prosthetist must fit and provide the shoes to the beneficiary.
Medicare helps pay for one pair of therapeutic shoes and inserts per calendar year, and the fitting of the shoes or inserts is covered in the Medicare payment for the shoes.
Insulin Pumps and the Insulin Used in the Pumps
Insulin pumps worn outside the body (external), including the insulin used with the pump, may be covered for some people with Medicare Part B who have diabetes and who meet certain conditions. If a beneficiary needs to use an insulin pump, their doctor will need to prescribe it. In the Original Medicare Plan, the beneficiary pays 20% of the Medicare-approved amount after the yearly Part B deductible. Medicare will pay 80% of the cost of the insulin pump. Medicare will also pay for the insulin that is used with the insulin pump.
Medicare Part B covers the cost of insulin pumps and the insulin used in the pumps. However, if the beneficiary injects their insulin with a needle (syringe), Medicare Part B does not cover the cost of the insulin, but the Medicare prescription drug benefit (Part D) covers the insulin and the supplies necessary to inject it. This includes syringes, needles, alcohol swabs and gauze. The Medicare Part D plan will cover the insulin and any other medications to treat diabetes at home as long as the beneficiary is on the Medicare Part D plan's formulary. (Source: cms.gov)