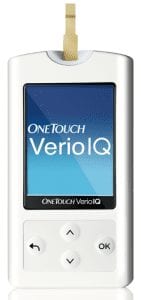 The OneTouch Verio IQ is the new go-to glucose meter for anyone who wants a smart meter. It has a great memory and it virtually smarter than any other glucose meter out on the market today.
The OneTouch Verio IQ is the first meter ever with Pattern Alert Technology. This technology shows you when your blood sugar has been too low or too high for a period of time. The meter shows color coded messages to show if your blood sugar level is too high (red-colored) or to low (blue-colored). It also sends out a message such as "Your blood sugar has been high around this time". It also sends out alerts that will remind you of these patterns for the next 24 hours. That way, if you are busy doing something at that moment, it will remind you again later.
Unlike many other glucose meters, this one has a color screen which is great for using it in the dark. That way you can use it on a road trip without the need of an attention grabbing light or in the middle of the night without worrying about using a lamp.
It has a 750-test memory and can store up to 50 pattern messages. This will help you to see common threads in your results. There is no manual coding and there are four easy-to-use buttons the meter itself that you can use to navigate through the meter. The menu is easy-to-navigate and very friendly. The meter itself can store and display 7, 14, 30 or even 90 days worth of blood sugar averages.
The One Touch Verio IQ requires very little blood for its test, about 0.4 uL, which is less than many other glucose meters on the market today. The testing strip is gold in color, which is different from other meters and can be tested on either side which means you don't have to worry about sliding it in wrong. The lancet has been called easy-to-use and comfortable because the prick is painless and since not much blood is used, the needle doesn't need to go very far in.
It is fluent in Spanish, which is great because that means it versatile. It is rechargeable, through rechargeable battery and only needs to be charged about twice a month. All you have to do is plug it up to your USB cable or AC adapter, which are included. It will start charging and you can still keep tabs on your patterns.