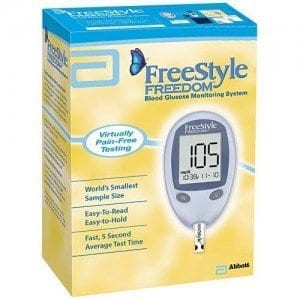 The FreeStyle Freedom glucose meter manufactured by Abbott Diabetes Care promotes ease of reading and ease of handling components. This glucose meter is made by a well-known name in the diabetes care field and has many wonderful components which are designed to make procuring blood glucose level results easy as can be. The following will describe some of the product characteristics along with some pros and cons which may go along with the use of the FreeStyle Freedom glucose meter.
Product Characteristics
The FreeStyle Freedom glucose meter is a glucose monitoring system which has many favorable attributes. This particular meter has an easy to read display screen, ergonomic design for easy handling, 5-second test results, ability to reapply the blood sample within one minute of previous testing and programmable alarms. In addition, this glucose meter allows for alternate testing sites which enable the individual to use sites other than their finger for constant testing. The FreeStyle Freedom stores up to 250 prior test results and has an automatic shut off component which will aid in saving battery life should one forget to shut down their glucose meter after testing. It also requires an extremely small sample size of 0.3 microliters which makes for less painful and less prolonged testing.
Pros of the FreeStyle Freedom Glucose Meter
One of the pros of the FreeStyle Freedom glucose meter is the quick test results which users can achieve by using this type of glucose monitoring system. The 5-second test results allow for individuals to simply test and go. Since many are on a time schedule these days having a quick glucose meter is extremely beneficial.
The price is another favorable attribute of the FreeStyle Freedom glucose meter. Selling for approximately $25 retail this particular glucose meter offers quite a bit for a great price. This all-inclusive meter is well worth the price.
In addition, the FreeStyle Freedom glucose meter has a good memory capacity to it. Storing up to 250 test results allows the users to keep their information on their glucose meter and transfer it over to hard copy when they get the next available chance to do so. A good memory capacity is a nice attribute of a glucose meter.
Cons of the FreeStyle Freedom Glucose Meter
There seem to be very little negative aspects to the FreeStyle Freedom glucose meter. If any have to be mentioned perhaps the simple feature aspect can be mentioned. Although this meter has all of the necessary functions it may not have all of the components which some other glucose monitoring systems contain. Therefore, those individuals who may desire an all-inclusive glucose meter may find the FreeStyle Freedom meter lacking in some regards.
An additional less than favorable aspect for some may be the memory capacity. Although listed previously as a beneficial attribute, some may find that they need a larger memory capacity for their glucose meter. As some glucose meters are available with 350-test result memory capacity, the 250-result memory of the FreeStyle Freedom may not be enough for certain users.
The Bottom Line
When all is said and done, the FreeStyle Freedom is a great buy. If you are looking for an above average glucose meter with more than enough functions, quick testing time, good memory capacity and easy handling components, then the FreeStyle Freedom is the way to go. The inexpensive price tag is another reason to buy this model as you really get a lot for your money. For those who may need a bit more functions and greater memory capacity, there are other models available on the consumer market which might be more suitable. With that said, the FreeStyle Freedom is certainly not lacking in many areas.