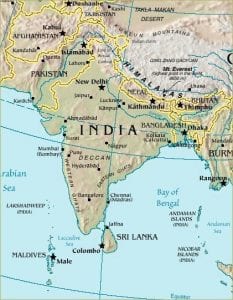 A study led by an Indian-origin researcher and published in the journal Nature Genetics has discovered six new genes that may cause the early onset of Type 2 diabetes in South Asians — those of Indian, Pakistani, Sri Lankan and Bangladeshi origin.
The study's findings may provide new leads for scientists as they try to discover new diagnostic tools that will help them prevent and treat Type 2 diabetes.
Those of South Asian descent may be at up to four times the risk of developing Type 2 diabetes as opposed to those of European ancestry. The disease leads to other severe complications such as stroke and heart disease.
The study was conducted jointly by researchers around the world. They analyzed the DNA of 18,731 individuals who had been diagnosed with Type 2 diabetes, along with a healthy control group of 39,856 non-diabetic individuals. The researchers analyzed the genetic makeup of the individuals to search for variations in the genetic code that appeared to be common among those who had been diagnosed with diabetes.
---
---
When the study concluded, researchers had identified six areas of the genetic code where a difference of a single letter was linked to the development of Type 2 diabetes. The findings suggest that the genes related to these variables may play a part in determining an individual's likelihood of developing diabetes.
"This is the first genome-wide association study in South Asians, who comprise one-quarter of the globe's population, and who carry a high burden of the disease and its complications, including heart attack and stroke," said Professor Jaspal S. Kooner with the National Heart and Lung Institute at Imperial College London. Kooner, the lead author for the study, said: "We have shown that the genetic variants discovered here in South Asians also exist and contribute to diabetes in Europeans. Our studies in Asians and European populations highlight the importance and gain in examining the same problem in different ethnic groups."
Dr. John Chambers with the School of Public Health at Imperial College London was the senior author of the study. "Type 2 diabetes is more common in South Asian populations than any other ethnic group, but the reason for this increased risk is unclear," said Chambers. "Although lifestyle factors such as unhealthy diet, physical inactivity and obesity are important causes of diabetes in South Asians, these are only part of the explanation. Genetic factors have been widely considered to play a role in the increased risk of type 2 diabetes in Asians, but to date have not been systematically explored in this population."
"Our study identifies six new genetic variants linked to type 2 diabetes in South Asians. Our findings give important new insight into the genes underlying of diabetes in this population, which in the long term might lead to new treatments to prevent diabetes," continued Dr. Chambers.
According to a research article published in 2007 in the British Journal of Diabetes and Vascular Disease, South Asians have a one in three chance of developing Type 2 diabetes over the course of their lives. Those who develop diabetes are also diagnosed with the disease ten years earlier than Europeans, on average. Not only does diabetes incur a greater social and economic burden on South Asians, but they suffer higher fatality rates from cardiovascular and renal disease as a result of their higher rates of diabetes. About 55 million South Asians worldwide are affected by diabetes, with that number projected to rise to 80 million by 2030.
---