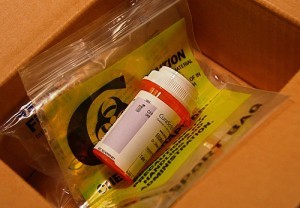 Diabetics who receive their prescription medication through the mail have higher rates of adherence to oral diabetes medications, according to a study published in the Journal of Medical Economics.
"This is the first study to show that mail service can help Medicare Part D members achieve better adherence with their diabetes medications," said Jacqueline Kosecoff, PhD, CEO of OptumRx, in a press release. "Improving adherence has been shown to prevent the worsening of disease outcomes, decrease the use of health resources and control escalating health care costs."
Adherence is defined as "the extent to which a person's behavior [in] taking medication corresponds with agreed recommendations from a health care provider," according to the World Health Organization.
The study, conducted by Prescription Solutions by OptumRx, was a retrospective cohort study that analyzed medication adherence in Medicare Part D beneficiaries who had been diagnosed with diabetes. The team at Prescription Solutions used the data to determine if there is an association between increased medication adherence and the delivery of medication to the patients' homes through mail-order pharmacy.
Researchers used Prescription Solutions data on pharmacy claims for 22,546 patients; 89% of the patients were 65 or older. The team excluded patients who treated with insulin or exenatide (Byetta and Amylin), those who received low-income subsidies, and those who were taking anti-depressant or anti-dementia drugs during the research period. The group was then divided into two cohorts — one composed of patients who only filled prescriptions at retail pharmacies and the other composed of patients who only received their medications by mail from Prescription Solutions.
The press release from OptumRx states that adherence to antidiabetes medications, including metformin, thioglitazones, and sulfonylureas, was measured by the proportion of days covered throughout the year 2009. Among the diabetic patients in the study, 41.6% achieved good adherence, with the average proportion of days covered being 0.60. When the researchers compared the patients who received medication through the mail versus those who filled prescriptions at a pharmacy, the mail-order patients showed a significantly higher number of days covered at 0.68 versus 0.57. The patients who used mail-order pharmacies achieved a higher adherence percentage at 49.7% versus the 42.8% of retail pharmacy users who achieved good adherence.
"Medication adherence is a multi-faceted problem that requires a multi-faceted approach," said Brian K. Solow, MD, chief medical officer of OptumRx. "Our study provides convincing evidence that mail-order pharmacy would be one way to help improve adherence for patients with chronic diseases."
Failure to achieve medication adherence can put patients at greater risk of developing complications associated with their conditions, especially those suffering from chronic conditions. Poor adherence can result in worsening of the condition, death, and increases in the cost of health care. Of the medication-hospitalizations that occur in the United States, approximately 33% to 69% of them occur because of nonadherence to a prescription plan. Unfortunately, it can be difficult for physicians to detect such nonadherence.
Some ways that physicians can monitor medication adherence include determining the rate of prescription refill, measuring physiological markers such as the levels of a metabolite in the blood, counting pills, directly observing the patient taking the medication, and asking the patients to keep track of their dosages, such as with a medication diary. Data has shown that adherence rates are inversely proportional to the frequency of dosing; in patients taking medication that required four doses daily, adherence rates fell to about 50%.