Diabetes And College Scholarships: Breanne is a senior in high school this year. She wants a good education and she's worked hard to get good grades. She's done so because there have been numerous expenses related to the care of her Type 1 diabetes. She knows her family will do almost anything to get her into a good college, but she wants to help. Her grades reflect that willingness. She's applied for many scholarships and she prays some of them will come through.
No one wants to live with diabetes. It is a disease that many young people live with in the form of Type 1, which is also known as Juvenile diabetes along with a rising number of teens that have developed Type 2 diabetes.
When it comes to diabetes the difficulties are many. One of the challenges for families is finding a way to pay for college. That being said there are several college scholarship opportunities for students who have this disease. Let's explore a few of the possibilities.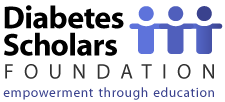 The Diabetes Scholars Foundation funds college and conference scholarships to students with Type 1 diabetes.  For the upcoming 2009/2010 school year we will be awarding up to 15 $5,000 college scholarships to incoming freshmen with Type 1 diabetes.  The application can be found on our website at www.diabetesscholars.org.  The deadline to apply is May 15, 2009.
Novo Nordisk Donnelly Awards. These awards are intended to encourage a long and healthy life. The awards are given to high school students who engage in the team sport of tennis, but who also have diabetes. Two $5,000 awards are given annually. You can contact this organization at 512/443-1334 ext 201 or at:
Texas Tennis and Education Foundation
8105 Exchange Drive
Austin, Texas 78754
Diabetes Hope Foundation. This organization typically offers 100 separate college scholarships on an annual basis. The scholarship value is different for each recipient based on numerous variables. This Canadian Foundation has a website, but can also be contacted by phone (905) 670-0557 or at:
Diabetes Hope Foundation
6150 Dixie Road, #1
Mississauga, ON
L5T 2E2
While these are the major scholarship foundations for diabetes you should know there are numerous individual colleges that provide scholarships for individuals with diabetes. This may be in response to the Americans with Disabilities Act, but the fact that there are individual school scholarships is good news for those families who may already be struggling with finances related to the managed care of a loved one with diabetes.
By all means work to find all forms of scholarships available – ones that play to the academic or sports skills of your high school senior, but don't forget to look into what possibilities exist for a scholarship specifically offered to students whose lives have been altered by diabetes.
If you find a scholarship opportunity in colleges or universities that your child may be interested in attending it can speak volumes to the importance the school places on the health care needs of their student body along with accommodations they may have in place to step in and help in case of an emergency.
This not only means a progressive ideology in terms of meeting the genuine needs of their student body, but demonstrates a concerted effort to ensure their school environment provides a positive welcome to students who might otherwise feel intimidated and unsure.
Conduct your online search. Be relentless is researching possibilities. Any help you receive can lessen the financial burden for your entire family and set a positive tone for your child's educational future.