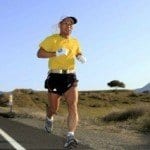 How much effort would you put into spreading the message about diabetes and its impact on you and those who love you? For one New Jersey resident the answer is running more than 3,000 miles in about 3 months. Learn more about Yijoo Kwon.
Kwon immigrated to the United States from South Korea. In fact, the New York Times indicated Kwon was a soldier for South Korea during the Vietnam War.
Diagnosed in 1996 as a Type 2 diabetic, Kwon was overweight and under challenged. He was a successful business owner, but diabetes presented it's own difficulties. One diagnosis proved Kwon to be a fighter to be admired.
Kwon took up running and dropped his weight by about 60 pounds. Running became something of an obsession for Kwon who has participated in more than 100 marathons. However, no race to date held more personal interest than a recent trip from Los Angeles to New York.
The purpose of this trip was to raise awareness to the disease that is Type 2 diabetes. Kwon ran through rain, cold and heat averaging around 30 miles per day. For Kwon there were no days off.
Kwon made stops in large and small towns from Riverside, California to Meade, Kansas. Kwon discovered areas both largely urban and ultra rural. Resting each night in an RV. His wife provided the leg massages he needed to endure another long day on the road.
Often Kwon's days started by 4 AM and he stopped running by 2 PM. This helped him avoid the hottest portion of any particular day. By the time the personal race was finished he held a news conference at the United Nations to talk about his trek and the need to be vigilant about diabetes.
Christopher McDougall is a fellow marathon enthusiast who followed Kwon's journey with interest and even planned on joining him for a portion of the run. McDougall posted on his blog June 2nd, 2010, "Catch him while you can. Just check out his numbers: May 26, 34.01 miles; May 27, 34.01 miles; May 28, 34.04 miles…
Unreal.
"Yijoo Kwon, the 64-year-old diabetic who began beating his disease the day he began running, is still blazing across the U.S. on his solo transcontinental run. He expected to be back home in Queens by July 9, but he's moving so fast, he'll almost certainly be early. He's in Ohio right now, but at an average pace of 34 miles a day, he won't be for long."
Kwon's own website bears witness to the transformation that led to such an endurance runner, "At the age of 51, Mr. Kwon was diagnosed with type 2 diabetes and was given an effective death sentence by doctors. The disease was an inevitable consequence from his unhealthy diet and sedentary lifestyle, and his future looked bleak. Mr. Kwon did not give up, however. He began walking, and little by little worked up to jogging and finally running. With sheer determination in the face of a potentially terminal illness, Mr. Kwon was able to fight his diabetes and claim back his life through running. These days, he runs several marathons a year and fully controls his diabetes through exercise and a healthy diet, without medication."
While forgoing medication is not advocated in most instances Kwon was resolute in his determination to wage a lifelong war with the disease.
Kwon has indicated an interest in writing a book about his cross-country journey and how his own diabetes provided the motivation for the trek.