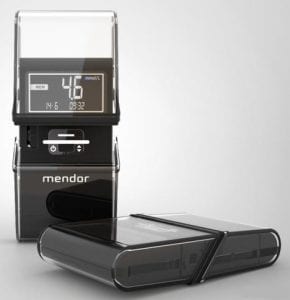 Mendor, a start-up company from Finland, Europe, has developed a revolutionary Mendor glucose meter for all diabetics needing to measure frequently. Mendor meter has been designed together with diabetics and healthcare professionals since day one.
The meter is the size of a cell phone, includes a lancing device and multiple test strips, making it extremely portable and easy to use.
"Our focus was to design a meter that could be discreetly and quickly used in daily life situations" says Industrial designer Mr Jukka Planman, one of the founders of Mendor.
Mendor is also launching a novel software concept for analysis of measurement results in a totally new and concise way. "In our opinion the software products available could be improved to be more user friendly, so we decided to create a new software concept that is easy to use and provides useful information for diabetics on how to adjust the treatment in practice", says Medical Director Mr Antti Virkamäki.
Mendor is launching the meter and software in Finland and in EU markets during 2010. The US launch is planned to take place during 2011.
For more information, please visit mendor.com or follow them on twitter twitter.com/mendor_com