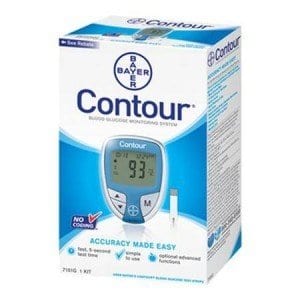 For diabetics, keeping an eye on their blood glucose level is essential. A glucose meter is the best way to do so. One glucose meter that has received good reviews is the Ascensia Contour Glucose Meter manufactured by Bayer HealthCare. If searching for a new glucose meter to monitor your blood sugar levels, this one may be a good item to check out.
Product Characteristics
The Ascensia Contour provides up to the minute product attributes such as no coding capabilities and test reminder alarms. The testing period itself takes approximately five seconds to register results and requires 0.6 uL per blood sample. In addition, this glucose meter allows multiple testing sites for added convenience of the tester. The strip fills automatically as a result of Sip-In Sampling technology. For those wish to have added privacy while testing, the glucose meter can perform the test while still in the case. An added bonus included with this type of meter is meal markers which the tester can utilize every day. Lastly, the meter has a 480-memory capacity which is an extremely generous memory capacity for glucose meters of this type.
Pros of the Ascensia Contour Glucose Meter
There are quite a few pros associated with the Ascensia Contour glucose meter. One benefit concomitant with this meter is the multiple testing site options. Since many enjoy the freedom of using their glucose meters in different areas, the multiple testing site capabilities make this possible. Another pro of the Ascensia Contour is the no coding technology. This technology allows users to simply turn on the glucose meter and take their blood sugar levels without having to pre-program the glucose meter.
Some will also find the test time of five seconds to be more than adequate when trying to register glucose level results. This is relatively fast for monitoring and is quite handy especially when testing on the go. An additional benefit to using the Ascensia Contour glucose meter is the memory size. A 480-memory capacity is quite good when compared to the memory levels of other glucose meters.
This particular glucose meter model also includes a data port for downloading information onto your PC. This provides a great way to keep your information in an electronic capacity and monitor your daily results in another record keeping area when the 480-memory capacity on the meter gets full.
Cons of the Ascensia Contour Glucose Meter
There are very little cons associated with this particular glucose meter. In fact, it pretty much has everything an individual could want when having to measure their blood glucose level. If anything has to be cited with regard to pitfalls of the Ascensia Contour perhaps the 0.6 uL blood sample size and testing time may be a bit less in other glucose meters. With that said, if a few seconds difference in testing time and small differential in blood sample size are not much of a concern to you, then these cons will not seem to outweigh the pros associated with the Ascensia Contour glucose meter.
The Bottom Line
The bottom line is that the Ascensia Contour glucose meter is an all-inclusive item. Equipped with a generous memory capacity, data port, reminder alarms, small sample size and no coding technology, this seems to be a great buy. For those who are interested in purchasing the Ascensia Contour made by Bayer HealthCare, it sells for the approximate retail price of $77. This item can be purchased at your local drugstore, through the manufacturer or online at a number of pharmacy type websites. You may also be able to find a good deal on refill testing strips for this particular type of blood glucose monitoring system.